Lab news
22/01/2018
We got a new Dr in the lab
Congratulations to Leon for his successful viva voce examination!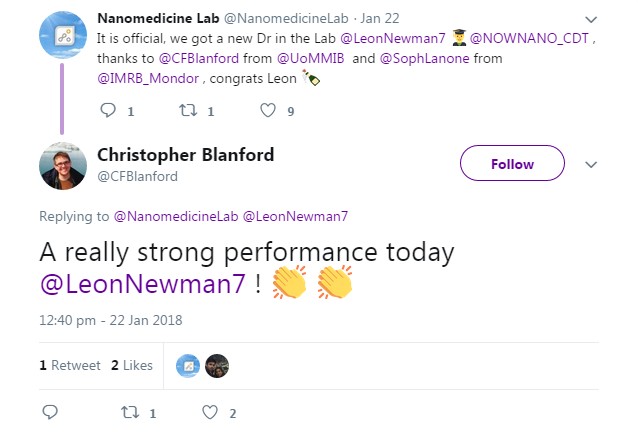 18/12/2017
Sinead wins best Post Doctoral presentation at NECTAR 2017
Sinead presented carbon nanomaterials as potential gene therapy delivery vectors at the NECTAR 2017 conference in Dublin from 6-8th Dec. The conference discussed recent research in neurodegenerative diseases, in particular Parkinson's disease, the focus of Sinead's research. She presented data on the benefits of carbon nanotubes and graphene oxide sheets to an audience of researchers, clinicians, and lay public with neurodegenerative diseases, and was joint first for best presentation for postdoctoral researchers. Congratulations Sinead!
Congratulations to all our datablitz prize -winners today at #NECTAR2017 Sinead @SineadSavageNeu, Deirdre @DeirdreHoban, Alain and Francesco. Prizes sponsored by Neuronal Signaling #NeuroSig @PPPublishing @BiochemSoc and by Science Foundation Ireland @scienceirel @NECTAR_EU

— Aideen Sullivan (@ASNeuro) December 8, 2017
Thank you @NECTAR_EU for awarding me joint Best PostDoc Data Blitz for my presentation on Carbon Nanomaterials as gene therapy delivery vectors! A great way to finish a truly wonderful conference! #NECTAR2017 #NeuroSig @scienceirel @BiochemSoc @PPPublishing pic.twitter.com/5TlnwTR5Up

— Sinead Savage (@SineadSavageNeu) December 8, 2017
12/12/2017
Nanomedicine Lab team presents in the Graphene Flagship booth @ MEDICA
MEDICA 2017 is largest medical trade fair in the world. Leading the WorkPackage on "Biomedical Technologies" of the European Project "Graphene Flagship", our team of Hannah, Annie, Kostas and Mauri presented at the booth of the consortium where they helped showcase four demonstrations of innovative biomedical technologies.
During MEDICA we co-organised also the Graphene Connect focused on Biomedical Technologies. The Workshop brought together experts mainly from industry with a series of talks about the different opportunities for graphene in biosensors, implants and bioelectronics, health and neural interfaces.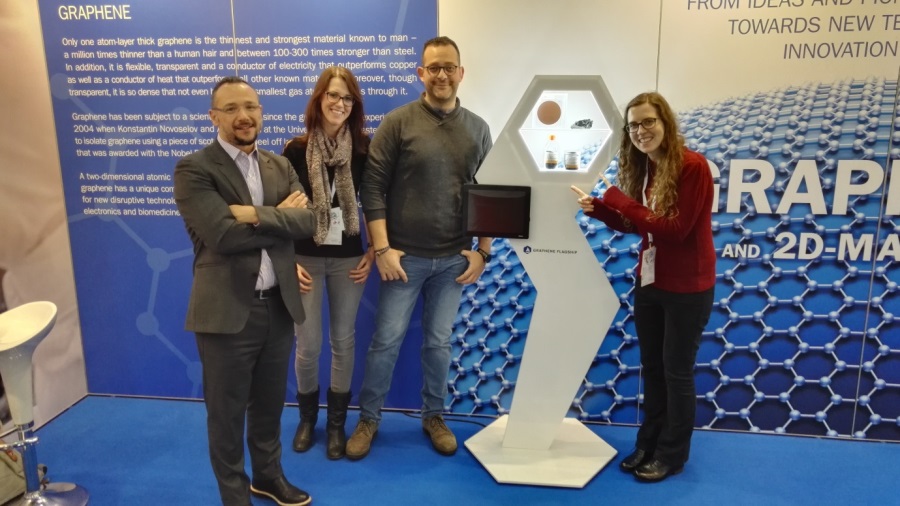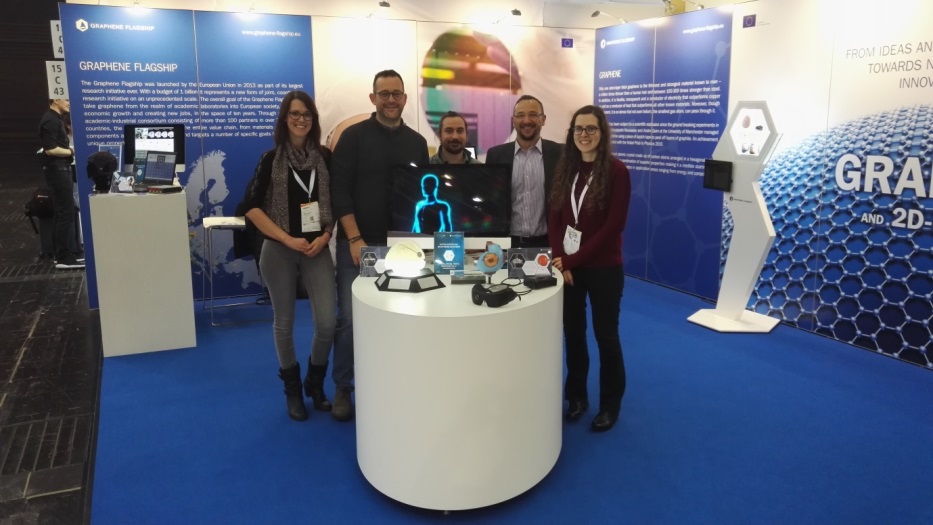 06/11/2017
Filipe is mentioned in an article from SafeNano about Inhaled Particles XII, Glasgow
The conference's Scientific Committee Chair, Prof. Stone acknowledged that it was "great to see so many new and old personalities interacting and taking the field forward", highlighting the importance of encouraging young researchers in the field, Graphene NOWNANO CDT student Artur Filipe Rodrigues received accolades. Read more
Scientists gather for 'All Things Inhalable' – a personal perspective on the 12th Inhaled Particles conference: https://t.co/Vg2TolUeJO pic.twitter.com/onR9x9dkma

— SAFENANO (@SAFENANO_Online) November 6, 2017
05/10/2017
Marilena is invited to give talk at 3rd Advances in Circulating Tumor Cells meeting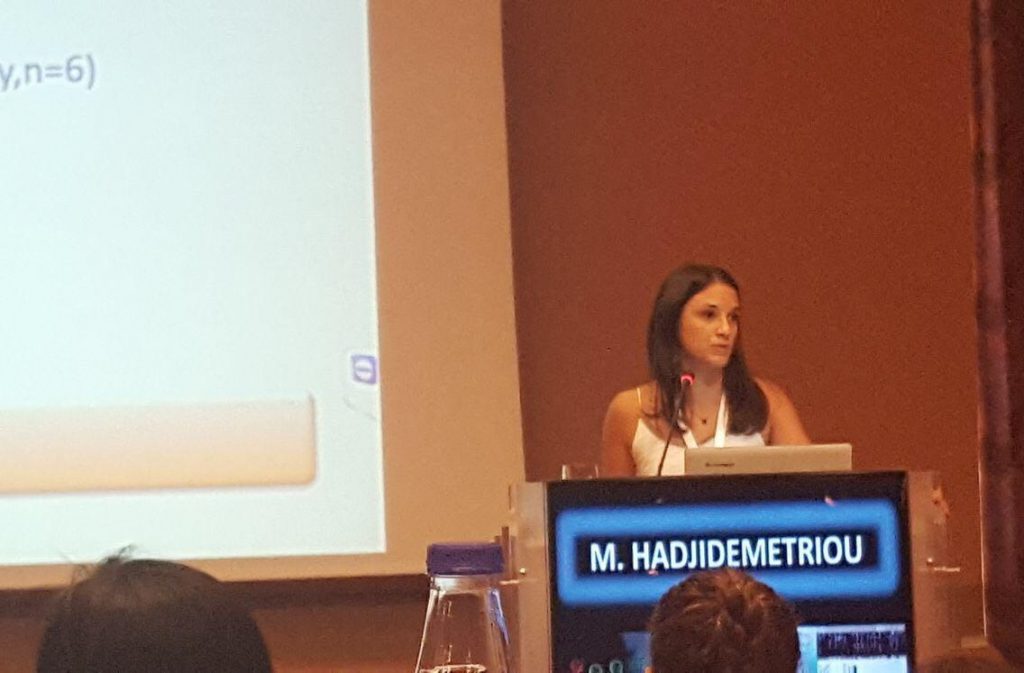 Marilena was one of the selected speakers invited to give a talk on her work during the 3rd Advances in Circulating Tumour Cells (ACTC): Liquid Biopsy in Clinical Practice Conference, that took place from the 4th till 7th October, in Rhodes, Greece.
03/10/2017
Irene participates in Ambassadors for Science
Irene has been selected to take part in the 2nd edition of "Ambassadors for Science", an initiative from the Spanish Foundation for Science and Technology (FECYT) to promote science diplomacy.
The first stage took place this September in the Spanish Embassy in London. The program encompassed  introductory lectures to the diplomatic and scientific careers and a simulation game where scientists where challenged to discuss and take decisions on different issues arising from a hypothetical hard Brexit scenario. Read more
In the next stage, Irene will shadow Mr José María Fernández López de Turiso in his role as Deputy Head of Mission in the Spanish Embassy in the UK. She will then host Mr José María in our lab to showcase research at The University of Manchester. Visit our website to keep posted on the development of this program!

Images from FECYT
26/09/2017
Filipe awarded Young Investigator Award for his oral presentation at Inhaled Particles XII
Graphene NOWNANO CDT student Artur Filipe Rodrigues received first prize for his oral presentation on "Protein coating determines the cellular responses in the abdominal cavity after graphene oxide administration" at Inhaled Particles XII conference. This conference was held in Glasgow, UK on the 25th to 27th September 2017.

25/09/2017
Sandra and Filipe both give talks @ ICONAN in Barcelona
Sandra and Filipe attended ICONAN held in Barcelona, Spain on the 25th to 27th September 2017. Sandra gave a presentation on "Lateral Size of Thin Graphene Oxide Sheets as a Critical Factor for Induction of Oxidative-Stress Mediated Cellular Response". Filipe presented on "Protein coating determines the cellular responses in the abdominal cavity after graphene oxide administration".
21/09/2017
Marilena passes her viva examination
Congratulations to Marilena for her successful viva voce examination! Marilena already continues her protein corona research in Nanomedicine Lab as a Postdoctoral Research Fellow.
18/09/2017
Marilena presents in the final PathChooser Meeting in Dublin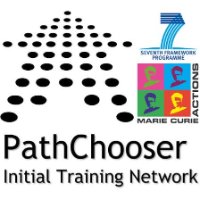 Marilena presents in the final PathChooser Meeting hosted in Dublin, Ireland, on the 28th till 29th of September 2017. Both Marilena and Kostas represented the Nanomedicine Lab and gave one talk each on our work funded by the ITN on the in vivo protein corona onto blood-circulating liposomes.