23/11/2017
Press excited with Nanomedicine Lab – CUHK collaboration in designing propelled delivery systems published in Science Robotics

The animation that Science magazine put out on YouTube to promote/communicate the article: This robot made of algae can swim through your body.

---
Wide-circulation press:
Tiny robot designed to fight cancer could be inserted into human body

Scientists have developed tiny, remote-controlled "microrobots" with the ability to release cancer-targeting drugs, which they hope will one day be used to diagnose disease and administer drugs inside the human body. Read article      
The tiny robots that could help treat cancer: 'Biohybrid' machines the same size as a red blood cell could soon deliver drugs to remote parts of the body

Scientists Tiny robots could soon be delivering life-saving treatments to hard-to-reach parts of the body, according to a new study. Read more      
MICROBOT MIRACLE Tiny cancer fighting robots could be injected into humans to fight disease

TINY robots small enough to be injected into the human body have been hailed as a potential breakthrough in the battle to cure cancer. More details
Tiny microrobots could be used to cure cancer

Known as "biohybrids," the microbots can be controlled remotely to deliver life-saving drugs directly to affected areas for maximum efficiency. Read article
GERMINATOR Tiny robots can be used to eradicate cancer cells in blood stream, scientists believe

Experts have developed remote-controlled "micro-robots" that have the ability to release drugs to target cancer with precision. Find out more
---
Science-focused outlets:
Biodegradable nanobots could help treat cancer
The team led by Prof Li Zhang from the Chinese University of Hong Kong, including Prof Kostas Kostarelos from Manchester University, have created the bots from a biodegradable material called spirulina algae. More details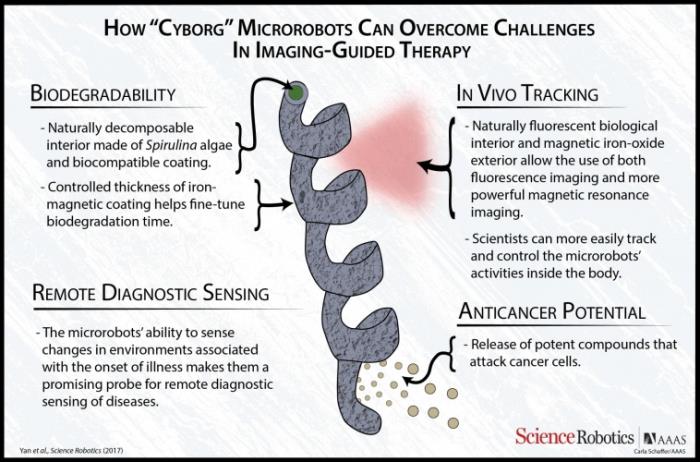 How nanobots work (by Carlo Schaffer, Science Robotics, AAAS)
Using microrobots to diagnose and treat illness in remote areas of the body
Imagine a swarm of remote-controlled microrobots, a few micrometers in length (blood-vessel-sized), unleashed into your body to swim through your intestinal track or blood vessels, for example. Goal: to diagnose illness and treat it in hard-to-reach areas of the body. Read here
Nanobots pass first stage in 'fantastic voyage' from fiction to fact
A team of scientists have created a new generation of tiny remote controlled nanorobots which could one day allow doctors to diagnose disease and deliver drugs from within the human body. Read here
---
Various other news websites:
The remote-controlled nanorobots that may hold the future of medicine.
Tiny robot to be inserted into human bodies to fight cancer
The real potential of these bots, according to Professor Kostarelos, lies in the potential to navigate them towards "hard-to-reach cavities of the human body" where they can treat or diagnose disease without the need for more invasive methods. Read here
Tiny robot biohybrids could help treat cancer
Rather than design complicated nano-robots from scratch, scientists are increasingly looking to build on the elegant infrastructure provided by nature. Read more
Nanobots Pass First Stage in "Fantastic Voyage" From Fiction to Fact

An international team of researchers have created remote controlled nanobots from a biodegradable material that they believe could assist doctors in diagnosing diseases and delivering drugs to target sites. Read article 
(Source: University of Manchester)
Algae hope for diagnostic nanobots 
The algae are thought to have been a source of nourishment in central America at the time of the Aztecs. They are biodegradable and available for sale as a food substitute in health food shops. Read here
Scientists Program Remote-Controlled Nanobots to Kill Cancer
A joint effort by researchers at the Chinese University of Hong Kong and The University of Manchester, these tiny droids could one day empower doctors to diagnose disease and deliver drugs from within the human body.Read More
Tiny robots step closer to treating hard-to-reach parts of the body
Spirulina algae coated with magnetic particles to form a microrobot. Devices such as these could be developed to diagnose and treat illness in hard-to-reach parts of the body. More details
Magnetically-Controlled Organic Microbots Could Change Medicine in the Next Decade
Microbots designed to traverse the human body are one of the most potentially transformative technologies in the future of healthcare. Researchers have developed a microbot made from algae that solves some problems with the tech. Read here
Researchers Turn Algae Into Micro-Robots

Targeting diseased cells while leaving the surrounding healthy tissue alone is a big challenge in drug development. It would be nice if you could get a robot to do it for you. Read article 
Tiny magnetic robots could treat hard-to-reach body parts
Scientists have developed a swarm of robots measuring about the size of a blood cell that can be remotely operated to diagnose and treat illness in hard-to-reach areas of the human body.Read More
---
Mass newspaper and media websites from Greater China:
Could tiny robots made from algae be the next big break in the fight against cancer?
A common algae has been used to make biodegradable microrobots that could detect diseases in the human body as well as attack cancer cells, Chinese University researchers announced on Tuesday. More details
Cancer killer is a micro marvel
Two Chinese University of Hong Kong researchers have developed the first biodegradable microbot – a microscopic robot – with the "unexpected" ability to kill cancer cells in a laboratory setting. Read here
Click to read more in Chinese: